Please note that this post contains affiliate links. These involve no extra cost to you but may result in me receiving a small commission - for which I'm very grateful! To know more, check out our Affiliate Policy.
Let's be real: being a stay at home mom (or stay at home dad!) is a job in itself. So if you're a parent looking to make extra money with a side hustle or even for a work at home job as a full time career, there are some important things to consider. That's why these stay at home mom jobs may be just what you're looking for.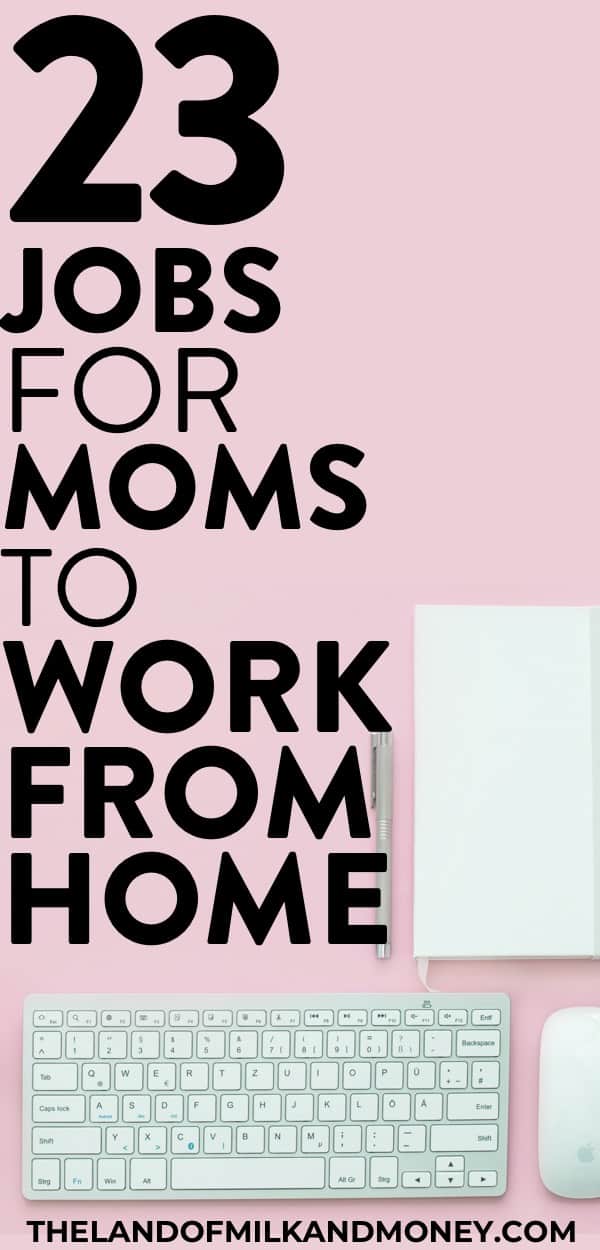 The key word here is flexibility – and these jobs absolutely have that.
They're great at helping you work around the limited time (and energy…) you have after chasing the kids all day.
And as you'll see, some of these parents have even turned their side hustles into five- or six-figure full time jobs!
What do I need to do these stay at home mom jobs?
Most of them will need a computer and an internet connection, although you absolutely won't need any major tech knowledge.
In some cases, a dash of creativity or skills in a particular area would help. 
That said, if you're, ahem, less creatively inclined like I am (I may or may not have almost failed Art class in elementary school…), then that's definitely not going to stop you making some serious cash.
The best thing you can have to make these work is self-discipline.
When you have limited free time meaning that you have to, say, respond to a client during nap time, then you have to have the ability to make yourself do it.
I like to do this with my side hustle (this blog!) by making a list of things I have to do each day as well as a list of things to do by the end of the week.
This means that if I finish the daily tasks and still have time, some of the weekly tasks can then be done.
If you're not a list person, another way may be to set a timer on your phone.
Many say that 20 minutes is the sweet spot. That means that you'll spend 20 minutes doing only the task and nothing else.
So no Facebook. No Pinterest. Just knuckling down and getting the task done.
(And if you have any other tips for tricking yourself to get things done, I'd love to hear them!)
1. Teach English online
Teaching English online is a great job for stay at home parents. The schedule is often super flexible, as most students are in China. This means, because of the time difference, that the main teaching times are often early in the morning or late at night when your kids are probably (hopefully?) sleeping.
Even better, you can earn great money – even up to $22 per hour!
VIPKID will give you all the resources you need to do this so once you're approved, you'll be able to start teaching English to Chinese students almost straight away!
And it has to be noted that this company was named by Forbes as being the number 1 company for people who want to work from home.
Find out more or sign up with VIPKID here.
2. Sell things
This isn't just about decluttering and selling your old things, although that's a great way to make some extra cash too.
Instead, how would you like to make a six figure income working part time as a work at home mom selling things you've found at thrift shops, yard sales and flea markets?
Take Melissa, for example. She's a stay at home mom who, in her first year of flipping, made $42,000 based on 5 to 15 hours of work per week.
And in her second year, working 20 to 30 hours per week, she made $133,000.
Some of the amazing "flips" that Melissa has done include a door handle she bought for $8 then sold for $200 and an exercise bike she bought for $100 then sold for $2,000.
Clearly there's really good money to be made here.
Find out more information from Melissa about how you can do the same right here.
3. Virtual assistant
A virtual assistant, or VA, does all those tasks that website owners – like bloggers! – don't have time to do.
This can range from writing articles, making other website edits to looking after emails…literally any part of running a business' site.
All from your home computer!
If you'd like to see a more complete list of the services you can offer, check out this amazing FREE resource: 150+ Services You Can Offer as a Virtual Assistant (And Get Paid For!).
There's huge demand for good VAs and given that you can earn a full time income of tens of thousands of dollars, it's definitely something you should consider.
FIND OUT HOW EASY IT IS TO GET STARTED: HOW TO BECOME A VIRTUAL ASSISTANT (AND MAKE $50,000+ WORKING FROM HOME)
4. Social media manager
This is similar to being a VA except that your work is exclusively focussed on managing a company's social media pages.
So if you're a social media whiz, this may be the work at home job for you.
In particular, this may be the side hustle for you if you're good at Pinterest, which is hugely important to companies and bloggers.
One great example is Kristin who, within her first six months and in addition to her full time job, averaged $3,600 a month from her role as a Pinterest manager and blogger – just as a side hustle!
If you're interested in doing the same, take a look at her FREE Pinterest VA Workbook. It has tips, tutorials and even homework (yep, sorry) on just how you can begin building a successful VA business, whether that be as a side hustle or your new full time job!
(P.S. Follow me on Pinterest here!)
5. Create products to sell
Whether you're good at knitting, gluing, designing or making candles, there's someone who wants to buy your creations on Amazon Handmade.
For example, a friend of mine sells natural, organic body products on there that she makes herself and earns some great extra cash each month.
With Amazon's millions of customers, there's a market for almost any product. So if you have a dash of creativity, why not check it out to see what you may be able to sell!
RELATED ARTICLE: HOW TO MAKE $100 A DAY – 30 CREATIVE WAYS TO MAKE MONEY FAST
6. At home treatments
…And continuing with the idea that you can make money from selling body products, you can also make money by helping people with their beauty treatments.
People love this as it's often more convenient for them to come to your home than to go to a salon.
They appreciate your flexibility if they're finding it hard to make an appointment and they also appreciate the fact that your manicure, blow dry or massage is probably cheaper than that fancy salon down the road – when the outcome is just as good!
Try advertising on Craigslist or some other online community notice board. Just make sure you take some usual safety precautions when letting strangers into your home.
7. Babysitting/at-home childcare
If you're already at home looking after your own kids, why not make some extra money by looking after someone else's at the same time!
There's always a demand for good, reliable babysitting services and a few hours of work can easily net you $100 or more.
With Sittercity, you can create a free profile so that people can search for your services. You also set your own rates and while the site says the average rate is just over $11, most of the babysitters' profiles that I looked at ask for anywhere between $15 to $40 per hour.
Find out more or create your profile here.
8. Blogger
Creating a blog is probably the easiest side hustle you can start. It can also be a great supplement to one of the other side hustles on this list, by allowing you to take your small business online.
To see just how simple it is, check out this article: HOW TO START A BLOG IN LESS THAN 15 MINUTES.
And better yet, it only costs $3.95 per month to create your new blog!
You don't have to be tech-oriented at all – I'm sure as hell not. Once you get the basics under control, all you have to do is start typing!
Keep in mind that you're not going to earn big bucks on day one of your blog's existence.
But with some time, you'll definitely be able to start making money from blogging. And it's another great example of passive income – even when you sleep, people will be visiting your blog and making you money!
There are a ton of ways to do that, but the best way is through affiliate marketing.
To find out more, check out the course Making Sense of Affiliate Marketing where a blogger earning six figures per month (seriously, that's not a typo) explains just how she does it.
9. Fitness instructor/personal trainer
This is a great work from home job if you have some sort of specialised training that you can share with people.
For example, if you're a certified PT or yoga instructor, people definitely want your services. –
You can set appointments around your kids' schedules and know that by having your clients come to you (or you to them when the kids are busy elsewhere), there's no hassle for you like there would be if you had to go teach at a gym.
A friend of mine even combines her stay at home mom job with kids by doing mommy and baby yoga lessons. The moms love it as they don't need to find childcare – and she loves it as she gets more money!
(She tells me it's cause the kids are cute but…I'm pretty sure it's mainly the money thing.)
To get started, take a look at any local community or mothers' boards for advertising your services.
10. Sell on Amazon
You might be picturing this one as requiring you to have piles of stuff at home to sell, but in fact the opposite is true.
For example, Jessica made over $300,000 in sales the very first year that she started her Amazon business.
The best part is that she says that you only need around $500 to start out!
She's also now created a course to show you how to do the same (which includes exactly how you don't need to keep piles of stuff at home), with former students that now do more than $1 million in turnover annually.
Find out more through her FREE 7-day online course.
11. Write an e-book
Whether you want to get your creative juices flowing or you have some useful information that you want to share with the world, writing an e-book can be a great work from home job.
It means that you can write a few pages whenever you have some free time. Plus, it's super easy to publish it through the Amazon Kindle Direct Publishing platform, which lets you earn up to 70% in royalties.
Don't worry about writing the next Harry Potter series. Simply share what you know or what inspires you – and your next masterpiece will follow!
12. Freelance developer or designer
Fiverr is a website that lets you freelance in whatever area you have some expertise.
It's especially great for website developers, site designers and graphic designers, although there are thousands of other possible jobs on there.
All you have to do is set up a profile explaining what you can do. Then, when you're approached by someone looking to hire you, you have the flexibility to say yes or no and agree on a price. Perfect for stay at home parents!
13. Bookkeeper
Working from home as a bookkeeper not only lets you work whenever you want, but all you need is a computer, an internet connection and a keen eye for detail to earn an average of $80 per hour.
Find out more through this FREE online course to see just how you can start your very own bookkeeping business.
14. Pick up garbage
This may sound like a strange way to make money from home, but it's amazingly lucrative. In fact, people are earning a six-figure salary from this side hustle!
After all, every city needs garbage to be picked up, so there's always a need for your services.
It's also great for the environment – and your fitness!
Find out more information from Cleanlots to see how to get started with your own business in this field.
15. Freelance writer
If you love writing but that e-book idea at #11 isn't quite your thing, then you may be happy to hear that a ton of websites rely on freelance writers to produce content for them.
This lets you earn money from writing about a range of different topics – really, almost anything you can think of!
But while you may be a great writer, it can be tricky to know where to look for these kinds of opportunities.
Elna Cain, however, knows just where to find them. She manages her own freelance business while also being a stay at home mom of twins (!!).
Better yet, she's created a course that will allow you to make $1,000 in only 30 days from freelance writing.
Former students of hers are making several thousand dollars at home, just by writing content that's been published on sites like the Huffington Post and About.com.
Take a look at her course here for more information on how you can make some great money from freelance writing.
MORE INFO: HOW TO MAKE MONEY TRAVELING THE WORLD AS A FREELANCE WRITER
16. Seasonal job
Plenty of companies need extra hands on deck during certain holidays, especially in retail.
These offer a great way for you to earn some extra money from the flexibility of a short-term job while also gaining extra skills (and maybe even seeing if you want to stay with the job on a long-term basis too!)
Keep an eye on Craigslist for when these start appearing, especially right before Thanksgiving and Christmas. Groups from your local community on Facebook can also be a great way to find out about these opportunities.
RELATED ARTICLE: 14 PROVEN STRATEGIES FOR YOU TO MAKE MONEY THIS CHRISTMAS
17. Proofreader
Proofreading is great for those of you who love reading and have good attention to detail.
And with people earning literally thousands of dollars as professional proofreaders with the flexibility of working from home, it's definitely something to consider for stay at home parents.
Caitlin, the founder of Proofread Anywhere, has a FREE 45-minute seminar to show you how she turned proofreading into a full time income while she was travelling.
This includes not only the skills to be an expert proofreader, but also how to get clients to maximise your earnings.
Find out more about becoming a freelance proofreader here.
18. Customer service representative
Have you ever called a company with a complaint or a request for information? Well, the person you spoke with may just be a stay at home parent.
Check out Arise, Alpine Access, VIPdesk and Convergys, which are some of the major players in this field. They each have tons of opportunities for people who want to work as a customer service representative.
You don't even need any retail experience. In fact, all you really need is an internet connection and a headset with a microphone (which costs less than $20).
And as most of these companies need people manning the phones 24/7, jobs like this can definitely be as flexible as you need.
19. Transcriptionist
A transcriptionist is someone who turns audio or video into a transcript, so they're really useful for universities, marketing companies and TV or film companies.
Better yet, the average annual salary for a transcriptionist is around $45,000. Which is amazing when you consider that you can work whenever and wherever you like!
To find out more, check out this FREE 7-day course, which will show you the exactly how to become a transcriptionist – including how to use it to earn a full time income.
20. IT support
If you have some sort of IT training, then this is a great way to earn serious money working from home. In fact, because of the experience needed, this is one of the highest paying stay at home mom jobs available.
This might include things like technical support for installations, network or software issues or even doing remote repairs.
Check out companies like Apple, Dell or Computer Assistant to see what jobs they have available.
21. Scopist
A scopist edits legal documents for court reporters. Essentially, the court reporter will send the scopist a transcript and a recording of court proceedings, who will then edit the transcript to make sure that it's correct.
And don't worry, you don't need any legal training. In fact, all you really need is the ability to type quickly and accurately.
Perhaps the best part is that scopists are paid between $30,000 and $50,000 a year and can work from anywhere. This means there's both flexibility and great money to be made.
If this sounds like a job for you, why not take a look at this FREE 7-day introductory course. It shows you just how you can start making good money as a scopist, as well as how to find work in this field.
22. Travel consultant
While many people these days prefer to find their own travel deals online, there are plenty who like to get help from an actual person.
And similar to the customer service representative at #18, you can easily do a job like this from home.
Check out these travel consultant opportunities on FlexJobs for a ton of opportunities to make money from home helping people with their holiday plans.
RELATED ARTICLE: HOW I SAVED $1,320 ON ONE FLIGHT (AND HOW YOU CAN SAVE THOUSANDS TOO)
23. Dog walker/sitter/groomer
With pet owners in the US spending $6.11 billion on their pets every year, there are plenty of opportunities for you to make money in this area.
And Rover.com makes it super easy to do so. Their website says that there's a booking for dog walking or dog sitting made every four seconds through their website – so there's clearly money to be made!
This can include dog walking, dog sitting or dog grooming. This is especially great if you have your own pets so can use the equipment you already have for your own work from home job!
And if you're wondering how much you can really get paid for this, Rover.com states (source) that dogsitters that take two or three dogs for two weeks each month earn about $1,000 per month.
Find out more or create your profile at Rover.com to get started.
RELATED ARTICLE: HOW TO MAKE GREAT MONEY FROM YOUR LOVE OF ANIMALS
Other work at home jobs for stay at home moms (and stay at home dads!) to make money?
If you're looking for something even more flexible to make some extra cash, why not try one of these ideas!
Ebates: This app is amazing for getting cash back on your purchases at over 2000 stores, including things like groceries. And if you sign-up through that link, you automatically get a $10 welcome bonus – free money, not bad!
Swagbucks: Doing surveys is a great way to make some extra money, especially when you're waiting to pick-up the kids outside of school/soccer/basketball/dance/chess…or even when you just need to mindlessly sit on the couch and scroll through your phone for a while. And there's a $5 free sign up bonus!
If you're a stay at home parent, how do you currently make some extra money – or what's the side hustle that you'd love to start?
Just one more thing…
If you liked finding out about these
23 of the Best Stay At Home Mom Jobs

, why not share it with your audience?
They love making extra money too, after all!