Please note that this post contains affiliate links. These involve no extra cost to you but may result in me receiving a small commission - for which I'm very grateful! To know more, check out our Affiliate Policy.
We're all looking for new creative ways to save money, especially if you're on a tight budget. So starting one of these money saving challenges in 2019 may be just what you need to kickstart your amazing new saving habits – especially when you can get some help from a money saving chart!
Of course, in an ideal world, you'd be regularly saving a chunk of your salary each pay cycle.
But if you find you need a bit of a push through some healthy competition, then one of these money saving challenges could really accelerate your savings – and often with very little effort!
In fact, you may surprise yourself at how easy it is to save that extra $1,000 (or more!) with just a slight change of your habits every day.
The fact you get some pretty damn cool printables out of it too is just icing on the cake!
But I'm on a tight budget! So what are some creative ways to save money?
There are a bunch of ways that you can save more money to help you finish your money saving challenge!
For example, check out Trim – it's a totally FREE app that looks at your subscriptions or ongoing bill payments, like your internet, cable or car insurance, and renegotiates them automatically to save you money.
Or why not take a look at LendKey for refinancing your student loans. It's completely free, you can see what's available to you in about two minutes and it can save you an average of $10,000 on your student loan repayments.
And possible the easiest one – try Swagbucks! It's completely free and saves you money whenever you shop online. All you do is sign up (which takes literally 5 seconds – check out the screenshot below!) and it gives you cash back through PayPal gift cards – or you can get gift cards for other stores like Amazon, which is essentially free money.
Better yet, sign up here for a free $10 welcome bonus!
And for some extra ideas, here are some other articles that may help you with this:
1. 52 week money challenge (save $1,378 in one year)
This is one of the money saving challenges that you may have heard of before – but that's because it works!
It's super easy. In week 1, you start by saving $1.
Then in week 2, you save $2.
Simple, right?
So continue that throughout the year until you get to week 52, where you save $52.
And when you add it up, you'll have saved $1,378!
Of course, those later weeks may this might seem a bit tricky for some of you at the moment depending on how tight your budget is.
But you have to remember that you'll have been slowly saving a little bit more for the preceding months.
You'll already be so used to setting aside some of your salary each week, that you'll barely notice when it goes up to the bigger numbers!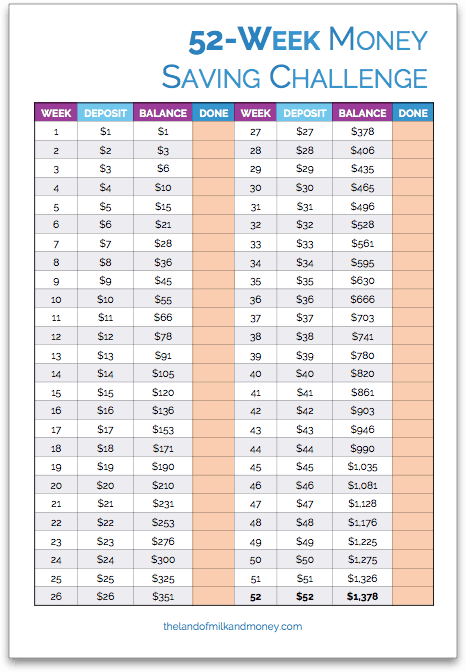 2. Extreme 52 week money saving challenge (save $13,780 in one year)
Does that previous one sound too easy for you?
I mean, having $1,378 is great and all.
But $13,780 is SO much better.
So consider stepping up to the most EXTREME option out of all the money saving challenges on this list by adding a 0 on the end.
It means in week 1, you'll save $10. In week 2, you'll save $20.
Easy, right?
The real challenge comes when you pass week 10, in which you'll save $100.
And so on and so on until you save $520 in the final week.
Now, again, this may sound like a massive number to some of you.
But you have to remember that it's completely manageable as you'll have worked your way gradually up to it.
By the time the final weeks roll around, you'll have already created great saving habits in your life that can be tweaked each week to save a liiiiiittle bit more.
Until, before you know it, you'll have saved almost $14,000 in one year!
3. Random 52 week savings challenge (save $1,378 in one year)
We've all been in the position where some weeks, it's just easier to save more than in others.
Maybe your car decided it would be a good time to break down or you got a nice little surprise with that larger-than-expected heating bill.
So this is one of the money saving challenges that lets you be a bit more flexible – while still having a great saving outcome!
(It's also pretty much like playing bingo, which is never a bad thing.)
How it works is like this: instead of starting with $1 in week 1, you can save $1 at any time throughout the year.
But you can only save a specific amount once per year.
So this month, you could save $36 this week, $51 next week and then only $8 and $14 in the following two weeks, presumably because your budget is a little bit tighter at the end of the month.
Next month, you can save any other amounts between $1 and $52 each week except for the amounts you saved over the last month.
And then continue this until you've used up all the amounts!
It's got the same great outcome of saving $1,378 as in the first money saving challenge, but it's way more flexible depending on how you're budget's going each week.
4. Reverse 52 week money saving challenge (save $1,378 in one year)
This is just like number 1 above, but the other way around.
That is, you start with saving $52 in week 1. Followed by $51 in week 2, $50 in week 3…
Ending with $1 in week 52!
While this can be hard to get used to at first, it can be a great ongoing reward as the saving gets easier.
And it's also a great plan if you're starting your money saving challenge in January and think that your budget may get a bit tight around the holidays at the end of the year.
See what works for you – after all, whichever one of these money saving challenges you can stick with and that ends with you saving as much as possible is the best one for you!
(You could also do this with the saving challenge at number 2 if you really want to push yourself!)
5. Monthly money saving challenge (save $1,050 in one year)
This is a great option if you're paid monthly and would rather save when you're paid rather than manage it on a weekly basis like the previous money saving challenges.
You'll save $25 in the first month. Then $50 in the next month. Then $75 the month after that. And then that continues until you reach $150 in the sixth month, when you reverse the process.
That means $150 in the seventh month, followed by $125 in the eighth month…all the way down to $50 in the eleventh month and $25 in the twelfth month.
And by the end of the year, you'll have saved $1,050!
(You could even double it – or more – each month for an extra savings challenge!)
Like number 4, this can be a great option if you plan to start doing this in January as it means that you're saving the least around the holidays when your budget is usually tighter.
To make it work, I'd recommend transferring this money to a high interest savings account the moment that you're paid.
That is, rather than waiting until the end of each pay cycle to see if you have enough money to save that month's amount, transfer it immediately out of your account so that you can't touch it.
Then you know you're guaranteed to succeed at meeting that month's challenge!
6. 30 day money saving challenge (save $500 in one month – almost!)
Sometimes you need to save money quicker than an entire year.
So why not aim for something that you can achieve a bit sooner!
$500 is also a really great amount to aim to save each month if you're just trying to kickstart your saving habit.
All you have to do is this: On day 1, save $1. On day 2, save $2.
And so on and so on…until by day 30, you'll save $30 – which equals $465!
But it's even better news if you're in a 31-day month, as that extra $31 you'll save on the last day will put your savings at $496 – oh-so-close to $500!
And like one of the money saving challenges above, if this gets too hard at the end of the month (particularly if you're paid on a monthly basis), just reverse it.
That is, save $30 on day 1, $29 on day 2…all the way to $1 on the final day when your budget may be getting a bit tight.
7. Weekly money saving challenge (save $520 in one year)
This is a great way to start you on your saving adventure.
Each month, you'll save $20 in week 1, $10 in week 2 then $5 in weeks 3 and 4. This means that you'll be saving $40 each month.
And by the end of the year after 52 weeks – voila, $520!
But you can do better than that, right? So why not try doubling it each week, starting with $40 in week 1.
It's just over $5 per day or less than a Starbucks latte! And which one will you enjoy more in the long run?
(Er, maybe don't answer that.)
8. Daily money saving challenge (save $1,456 in one year)
This may seem like one of the easiest money saving challenges, but the result is amazingly impressive.
On Monday, you'll save $1. On Tuesday, you'll put away $2. Followed by $3 on Wednesday, $4 on Thursday and so on until $7 on Sunday.
Then the next week, you'll start again at $1 on Monday.
Without even realising it, you'll be saving $28 per week. And by the end of the year, you'll have $1,456.
(And of course, if you find that money's getting a bit tight by the end of each week, you could certainly reverse it and save $7 on Monday, $6 on Tuesday and so on.)
9. 365 day money saving challenge (save $667.95 in one year)
Who would have thought that one single cent could make such a difference?!
For this one, you'll start with $0.01 on day 1. Then $0.02 on day 2.
And you'll continue like that until, on the last day, you'll save $3.65.
It doesn't seem like much but you'll have managed to save $667.95 by the end of the year!
(And by the way, this is a great one to teach kids how to start saving.)
Now, this admittedly isn't a life changing amount. But what's great about this specific money saving challenge is that you're creating positive saving habits that you can then use to really grow your savings even more in future.
That said, if this is way too simple for you, you definitely could try doubling the amounts each day (i.e. start with $0.02, then $0.04…).
10. No-spend challenge
This is one of the money saving challenges where you can set your own rules, depending on how bad your spending habits are much you need to save and how long you want to try it for.
For example, you could simply limit this to a weekend.
MORE INFORMATION: 50 FREE THINGS TO DO ON A NO-SPEND WEEKEND
Or you could really stretch it out to one month – or even one year!
This is tricky, but definitely doable – just check out one of the hundreds of stories online about people who've done this successfully!
You may wish to limit this to buying only absolute essentials, like food.
(That shouldn't include food that you buy at restaurants…)
Or you could say that you're not going to buy any clothes for the next year, except for things that you absolutely need.
Sorry, but that includes, say, one winter coat, not three coats and four "essential" pairs of shoes.
This is a great way to break something like an expensive shopping addiction or your costly habit to get take-out food three times per week.
After all, not only will you save the money for the time period you set yourself, you'll see that you actually don't need those spending habits to survive – so chances are that you'll be able to continue to save similar amounts once the challenge is over!
11. Save $1,000 in three months
Saving $1,000 in only three months may sound way too big for some of you but, like many things, when you break it down, it's really not that hard.
After all, it's equal to only $11 per day.
Think back to what you've bought over the last week or so. I bet that whenever you bought something non-essential, it cost way more than $11.
And to make this even easier, there's a free worksheet to help you make it to the end!
FIND OUT MORE: HOW TO SAVE $1,000 IN 3 MONTHS (AND STOP LIVING PAYCHECK TO PAYCHECK)
12. Save $3,000 in one month
This is one of the big guns in saving and can really go a long way to helping you pay off your credit card debt or jump start your emergency fund.
I will say that this probably isn't sustainable long term, although it's great for a month or so. However, if you're looking to consistently add to your income by $3,000 each month, I'd recommend looking into a longer term side hustle.
But if you need to save some cash quickly, check out HOW TO MAKE MONEY FAST: 30 WAYS TO MAKE $100 EVERY DAY FOR A MONTH
13. Spare change money saving challenge
This is one of the best money saving challenges for kids – or adults who need to pull their piggy bank from out of the back of their closet.
At the end of every day (you could even set an alarm on your phone at a set time each day to remind you), you'll check your wallet for any coins.
Then all that spare change will go straight into a piggy bank or a jar, where it will build up during the year.
You won't become a millionaire from this, but you'll find yourself saving money you won't even notice is missing which can definitely add up.
This woman saves around $350 per year using this money saving challenge – and one year, she even saved $1,000!
Not bad for just a bit of spare change!
14. Save a certain bill
This money saving challenge will amaze you at how much you can save.
Essentially, you'll pick a certain note (or coin, depending on where you live) and then save every single one of these that you collect.
This could be every $1 bill or even every $5 bill. Whichever you choose, as soon as you receive one, put it somewhere where it can't be spent.
This person has saved every $5 note she's received for 13 years – and ended up with $41,500!
And this Singaporean man saved every $1 coin he got for two years and managed to amass $6,000 (equivalent to around US$ 4,360).
So as you can see, this is one challenge that can really help you save big bucks.
15. Bottle money saving challenge
This is similar to number 9 in a way, but with an added twist.
The aim is to fill a plastic bottle with coins. You could make it any change or only a certain type of coin.
For example, if you do it just with dimes, it's estimated that you'll end up with around $700!
And this is another one of the best money saving challenges for kids, especially as they'll be able to immediately see how well they're doing. It's then up to you to decide what happens when they successfully reach the top!
16. Save your savings
Most store receipts will tell you how much you've saved from things like coupons or in-store sales. So it's time to use this to your advantage!
Simply keep all your receipts safe from each week. Then, at the end of the week, add up the total amount it says you've saved on all of them then transfer that amount to your savings account.
Depending on how much you shop, this could add up to hundreds or even thousands of dollars!
17. Save your debt repayments
So you've been focusing all your efforts on paying off your debt.
Firstly, you're amazing, as that's absolutely what you should be focusing on if you're striving to reach financial freedom.
RELATED ARTICLE: THE DEFINITIVE GUIDE TO GETTING OUT OF DEBT
But maybe you've been so amazing at this that you'll soon have paid everything off.
(Except your mortgage. It's fine to start this savings challenge if that's still ongoing and if your interest rate is low enough to make it better to put your extra money into savings or investments)
Not only does this make you a financial powerhouse, but you've just unlocked a cool new money saving challenge: saving your repayments!
That is, all that money you were previously putting towards your credit card or car loan repayments each month? You're now going to redirect that towards your savings.
This is a great challenge as you've clearly been surviving off a certain amount of money each month while making your debt repayments. So you can continue to live off that, be debt free AND start to maximize your savings.
Double financial win!
18. Save your raise
If you find yourself with a little (or big!) bump in your salary, don't increase your spending by the same amount.
Instead, transfer the additional amount to your high interest savings account.
You could even do this before the money reaches your account by asking your employer to transfer the difference directly to your 401(k).
Or, if they allow it, have part of your paycheck transferred to one account and the other part (representing your pay increase – or even more!) sent directly to your savings.
And then, without even realising it, your savings will explode!
19. Make it a competition
Now, these money saving challenges are great because they challenge you to get your finances in gear.
But how about kicking it up a notch by competing against someone else?
Whether it's a friend, your partner or a family member, it's a great way to keep you accountable AND to try to 'beat' the other person.
It doesn't even have to be one of the money saving challenges in this list! Instead, it could be who can save the most in a week or a goal for you both to save a certain amount of money in a month.
The person who loses (although are you really losing if you're both saving money?) then has to do something for the other one, like bring lunch to work for them for a week or pay for a breakfast date at the end of the challenge period.
The best way to succeed at these money saving challenges
Whichever you decide to do, the best thing you can do for your savings is to pay yourself first.
I like to do this by automating my savings. That is, when my salary hits my account, it's automatically divided up into a range of different things before I can touch it.
MORE INFO: HOW TO AUTOMATE YOUR FINANCES AND SAVE MONEY IN 3 EASY STEPS
And you can do exactly the same thing with these money saving challenges.
For example, if the challenge requires you to save a certain amount each week, you can set up all of the automatic transfers at the start of the challenge so the amount is taken out of your daily account and put into your high interest savings account before you can accidentally spend it.
Even if it's a different amount each week, like the 52-week money saving challenges, you can just set up 52 different transfers.
That way, you're giving yourself the best chance possible to succeed!
What's your secret strategy for challenging yourself to save more? Share your wisdom in the comments so someone else can do the same!
Just one more thing…
If you liked finding out about
19 Simple Money Saving Challenges To Help You Save More

, why not share it with your audience?
They love saving money too, after all!